August 2007 Colorado Rockies Magazine Kaz Matsui Astrological Profile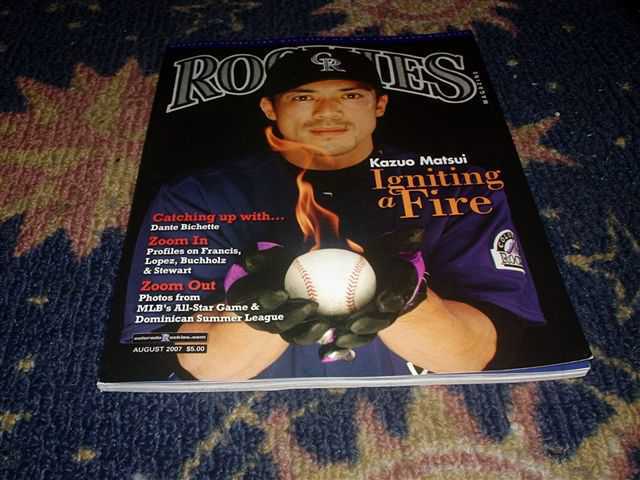 Andrea Mallis, Sports Astrologer, is a devoted baseball fan and writer based in Berkeley, California and raised in New York City. Andrea has a monthly column at MLB.com. Her work has appeared on various ESPN media including SportsCenter, Baseball Tonight, ESPN News, Cold Pizza, Page 2, and ESPN Radio. She's been quoted in the New York Post, San Francisco Chronicle, Chicago Sun-Times, and Oakland Tribune, and was featured in "FantasyLand," a book on fantasy baseball by Wall St. Journal author Sam Walker.
Using Kaz Matsui's date and place of birth, Ms. Mallis has put together an astrological profile of this disciplined ballplayer.
Kaz Matsui was born October 23rd, 1975 in Osaka, Japan, on the cusp of Libra and Scorpio. His Libra characteristics bring balance to an intense Scorpio nature. Scorpio types are extremely sensitive but disinclined to show it. They allow a special few into their inner world.
A seven-time All Star in Japan, Kaz embodies passion and fervor. With Uranus (the planet of originality) in Scorpio next to his Sun sign, Kaz is an iconoclast. Identifying with the role of rebel, he insists on a great deal of personal freedom. The baseball lifestyle allows for spontaneity. Often feeling outside the mainstream, Kaz struggles more that he has to, often taking himself too seriously. With Mars (energy) in emotional Cancer, he's sensitive to stress. Responding quickly to challenges, physical activities that require fast reflexes and a good sense of timing make him one of the better infielders. Blessed with an abundance of energy, Kaz makes a good leader, spearheading new projects and inspiring others to act. The joy of competeting runs deep in his soul.
When he joined the Mets in 2003, Matsui became the first Japanese infielder to sign with a major league team, and went on to earn four Gold Gloves. Endowed with great speed, he led the Pacific League in stolen bases from 1997-1999. Now in his first full season with the Rockies, he's excelled as leadoff hitter and second baseman.
Drafted by the Seibu Lions in 1994, Kaz is finally becoming more comfortable in America. The 31-year-old Japanese second baseman had a challenging time living up to the hype in New York after signing a $20.1 million, three-year contract in 2003 with the Mets, who traded him to Colorado last summer. "He's an exciting ballplayer and he's just starting to rekindle the skill set that was going on in Japan," Colorado manager Clint Hurdle said. "I mean, the Mets thought pretty highly of this guy, they signed him to a nice contract and things just never got on track for him there. This environment's been good for him. He's been good for us. The team has embraced him." Kaz has re-blossomed as a Rockie. "It's getting better, for sure," Matsui said through a translator when asked whether he was playing his best ball since arriving from Japan. "My back is fine, too."
This season Kaz has the opportunity to boost his confidence and move towards goals. Career recognition plays a prominent role. Directing energy wisely, willpower serves him well. Pioneering a winning "can-do" attitude, he's more resilient to pressure and is victorious in competition. An encouraging season is on the horizon for Kaz Matsui.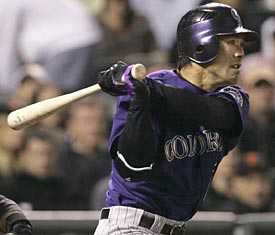 Let Andrea guide your game. Please visit www.virgoinservice.com, email andrea@virgoinservice.com, or call 510-874-4911