June 2007 Colorado Rockies Magazine Matt Holiday Astrological Profile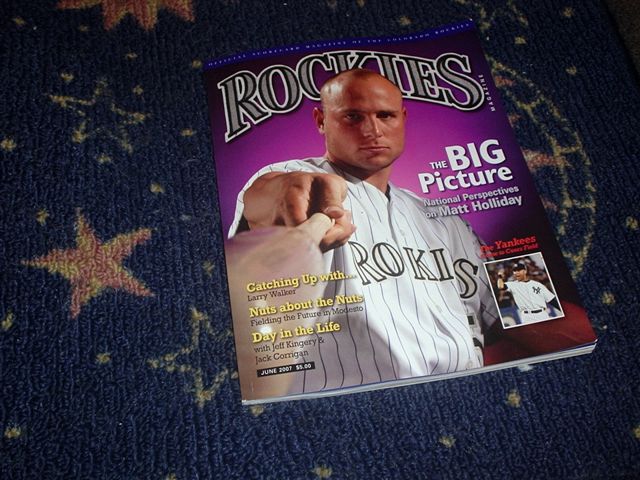 Andrea Mallis, Sports Astrologer, is a devoted baseball fan and writer. Based in Berkeley, CA, and raised in Queens, NY, Andrea has a monthly column at MLB.com, and her work has appeared on various ESPN media, including SportsCenter, Baseball Tonight, ESPN News, Cold Pizza, Page 2, and ESPN Radio. She has been quoted in the New York Post, San Francisco Chronicle, Chicago Sun-Times, Oakland Tribune, and many others, including the book "FantasyLand," a book on fantasy baseball by Wall St. Journal author Sam Walker.
Using Matt Holliday's date and place of birth, Ms. Mallis has put together an astrological profile of Matt and his 2007 season.
Matt Holliday was born January 15, 1980 in Stillwater, Oklahoma-an ambitious Capricorn, driven to prove himself. In his third major league season, Matt established career highs in nearly every category, while also ranking among league leaders several times. Making his debut in 2004, Matt finished 5th in the voting for NL Rookie of the Year, and was named to the NL All Star team in 2006. Slowly but surely, like their mountain goat totem, Capricorns reach the top.
Capricorns are old souls of the zodiac. Even as a child Matt had self-discipline and worldly wisdom. He was recruited out of Stillwater High School to play quarterback, earning All American honors in football and baseball before being drafted by the Rockies in the 7th round in 1998. Matt represents extraordinary homegrown talent on the Rockies path to rebuilding. Unconcerned with personal aggrandizement, he's the consummate team player and a perfect strategist to have in the lineup. Blessed with high vitality, Matt's an exceptional leader, inspiring courage and confidence in others.
Finishing in the top 10 in the NL in 10 offensive categories, including team best 34 Home Runs and 114 RBIs, he's gifted with big time bat speed and power. Matt's an exceptional middle-of-the-order slugger who can make adjustments to breaking stuff and turn on an inner half fastball. He also hits right-handers and left-handers with equal aplomb. Continuing to make strides in left field, he batted .326 in his breakout 2006 year, while establishing career highs in home runs, RBIs, and average, winning a Silver Slugger Award as one of the top offensive performers in the outfield. As part of the commanding 3 H's-Holliday, Hawpe and Helton-Matt is considered the face of the Rockies franchise.
Currently leading the NL in batting average, Matt's forecast looks strong, as destiny beckons to reap rewards. Opportunities abound for advancement as others recognize his strength and integrity. 2007 is a season of fortunately timed action. This is not luck, but insight and skill: music to an industrious Capricorn's ear. Their nature makes sure the job is done-and done well!
Let Andrea guide your game. Please visit www.virgoinservice.com, email andrea@virgoinservice.com, or call 510-874-4911