June 2007 Colorado Rockies Magazine Troy Tulowitzski Profile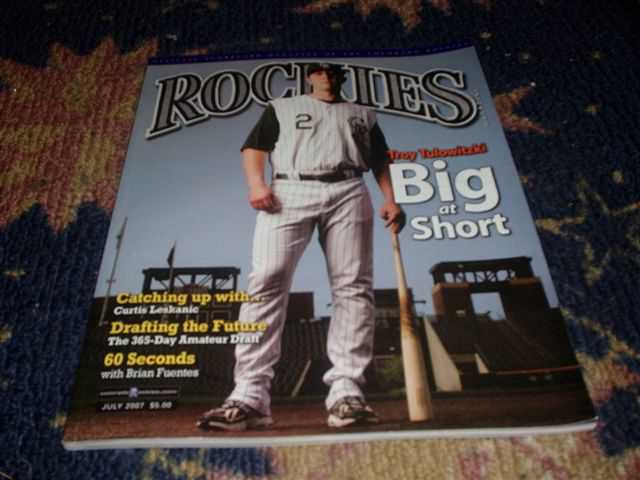 Andrea Mallis, Sports Astrologer, is a devoted baseball fan and writer. Based in Berkeley, CA, and raised in Queens, NY, Andrea has a monthly column at MLB.com, and her work has appeared on various ESPN media, including SportsCenter, Baseball Tonight, ESPN News, Cold Pizza, Page 2, and ESPN Radio. She has been quoted in the New York Post, San Francisco Chronicle, Chicago Sun-Times, Oakland Tribune, and many others, including the book "FantasyLand," a book on fantasy baseball by Wall St. Journal author Sam Walker.
Using Troy Tulowitzski's date and place of birth, Ms. Mallis has put together an astrological profile of Troy and his 2007 season.
Troy Tulowitzski or "Tulo" was born October 10, 1984 in Santa Clara, California. A sun sign Libra, harmony and balance are keynotes. Libra begins at the magical moment of the Autumn Equinox, a time when the length of the day equals night. Libras strive for such balance in all they do. Typified by the scales, diplomatic Libras do all they can to avoid conflict. Expressing a spirit of cooperation and compromise, fairness is extremely important. One of Tulo's greatest assets as an air sign is his ability to see both sides of an issue. Libra is the sign of the artist, and composer Giuseppe Verdi and musician David Lee Roth were also born on October 10.
Born on the Full Moon in fiery Aries, Tulo inspires others to take positive action by his own enthusiasm to meet life's challenges. Ruled by idealistic Venus, relationships are essential. Preferring to pioneer, Tulo is attracted to adventurous types. Like other cardinal signs, he seems constantly in motion.
With Mars (planet of energy) is ambitious Capricorn, he's tenacious in pursuing his objectives. Capable of foregoing immediate gratification to achieve long-range goals, he can easily become a workaholic.
Tulo has the rare combination of power (13 homers/.473 SLG) and defense. Baseball America rated him as having the top arm and being the best defensive shortstop in the Big West. Even at 6-3, 205 lbs., he's an athlete with great range and a well-rounded game. Troy hit .291 with a .370 OBP with 13 home runs from his leadoff position for Tulsa (AA) last summer, and .240 in 96 at-bats for Colorado. Rapidly rising through the Rockies farm system, he could bloom into 25 plus home runs. He makes solid contact and drives the ball, which should be very conducive in Coors Field. He has a knack for the big hit and offers intriguing potential.
Tulo was drafted 7th overall by the Rockies in the 2005 MLB Draft, and debuted in the majors for the Rockies on August 30, 2006-another outstanding home grown talent. On April 29, 2007, Tulo turned just the 13th unassisted triple play in MLB history during a game at Coors Field against the Atlanta Braves. "He competes so well and has got great drive," says Rockies manager Clint Hurdle. "You expect that of players up here, but he has a special want to. He never feels he's out of an at-bat, never feels he's out of a play in the field." Troy comments, "I'm always striving to get better. Making the big leagues in my first full season was my goal. Now it's time to step up my game and plan another goal for the next year. You can always do something to get better. This game is all about maintaining everything on a daily basis."
His composure, consistency, and endurance are impressive. Coming from an upper-tier college program at Long Beach State that also produced A's shortstop Bobby Crosby, Tulo knows how to play the game right. A future star at his position, 2007 looks bright as others recognize the accomplishments of this slick fielder with the mighty bat.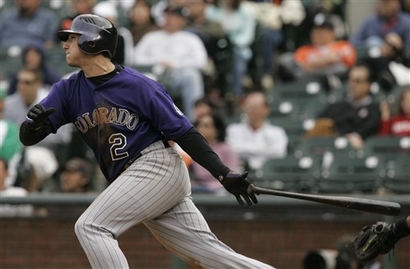 Let Andrea guide your game. Please visit www.virgoinservice.com, email andrea@virgoinservice.com, or call 510-874-4911