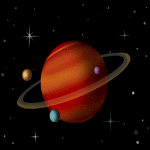 Home




Planetary
Ponderings

Services

About Me

Archives


Top of Page


MONTHLY HOROSCOPE COLUMN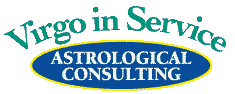 Planetary Currents
- February 1999 -



ebruary opens with four planets in innovative Aquarius. Lots of unique energy available for manifesting your desires. The New Moon in Aquarius on Feb. 15, electrifies as a powerful Solar Eclipse. Time to initiate much needed change, especially in areas of friendship and group associations. The Sun enters dreamy Pisces on Feb. 18, an auspicious time to write your wish list. Jupiter in pioneering Aries (for the first time since 1987), calls for risk-taking and an adventurous spirit. Dashing Mars is in Scorpio, the sign most often associated with amorous maneuvers, so expect this Valentine's Day to sizzle. Since one of my specialties is relationship compatibility and Valentine's Day is Feb. 14, the Relationship Queen will share her secrets on what each sign looks for in a relationship. If you know your rising sign, please read that too.

Aries-Increased communication and socializing are the order of the day, especially where affairs of the heart are concerned. Prepare to feel optimistic and outgoing as Jupiter, the plant of expansion, enters your spontaneous sign on the twelfth. Venus, goddess of love and beauty, enters assertive Aries on the twenty first. You could become involved with a very exciting person or take a bold step initiating new romance. If you are in a good relationship, it can improve, if not, this is your ticket out. Qualities you look for in a relationship include: excitement, fearlessness, athletic ability, adventuring.

Taurus-With the Solar Eclipse on the 15, plant seeds for new career developments. Negotiations over finances and promotions should go in your favor. Launch new projects now! Jupiter's entrance into your twelfth house of spirituality could have you thinking about a more spiritual life style. There is a major growth period in the romance department as you redefine and reevaluate partnership expectations. With Mars in your seventh house of relationships, love can be passionate and intense. After the fireworks, clear the air as needed. Qualities you look for in a relationship include: commitment, longevity, stability and dependability.

Gemini-Outward achievement and success are suggested, as the planets are mostly in the upper half of your chart. As Jupiter moves into Aries, your love life makes an important change for the better. Look towards the workplace and group organizations for meeting new comrades. People from distant lands are likely to play a significant role. You may even reconcile with someone long estranged. Additionally, you get the cosmic green light to move forward with your innumerable projects. Qualities you look for in a relationship include: intelligence, versatility, quick-wit, sociability.

Cancer-Mars transiting your fifth house has you eagerly pursing romance. Along with an eighth house emphasis, business and financial pressures come to light. No one knows as well as you how important a nest egg is for your security. The family budget may need a major overhaul. Various career opportunities are offered, and partnerships are promising ventures as well. While Jupiter's passage though Aries suggests adventure, you must also honor your need for security. Balance your life in terms of its feeling quality, and concerning professional achievements. Qualities you look for in a relationship include: sympathy, nurturing, intuitiveness, tenderness.
Leo-Partnerships and cooperative efforts are emphasized as the Sun, Mercury, Uranus and Neptune transit your seventh house. Moreover, shine your light upon artistic and creative activities. The New Moon Eclipse falls in your seventh house, ushering in new developments in your significant relationships. Unexpected circumstances may arise, and romantic dramas may erupt on Valentine's Day. A born romantic-- let's hope you are showered with appreciation, attention, candy and flowers. You may operate like you are the center of the universe this month. Trust your feelings and let your heart lead the way. Qualities you look for in a relationship include: confidence, generosity, ardent affection, loyalty.

Virgo- As changes in employment present themselves, strive for flexibility. If possible, wait until after the New Moon Solar Eclipse on the 15, as is promises greater stability and creative potential. Health and diet considerations also need attention. After the 18, the focus shifts from work, health and service to relationships. Partnership matters demand equal attention, accordingly make time for nurturing a relationship. Perfectionist tendencies work against you, so don't argue too many fine points. Qualities you look for in a relationship include: practicality, organization, analytical, cleanliness.

Libra-Cultivate inner balance as a sudden love interest has the potential to be disruptive. The Solar Eclipse on the 15 brings your love life into perspective. Jupiter moves into your seventh house giving you a Valentines Day present you'll no doubt appreciate. And, Saturn leaves the seventh house at months end, so happy days are here again as far as your relationships are concerned. A whole new set of friends may also loom on the horizon. Expect the Eclipse to release much creative energy and force a current love affair forward, or to the breaking point. Qualities you look for in a relationship include: artistry, refinement, attractiveness, appreciation.

Scorpio-Focus on your deep inner life, as your emotions seek more internalized self expression. Love is in the air, as Mars in forceful Scorpio gives you much energy, increased personal magnetism, sex appeal, and enhanced libido. Mars in Scorpio can also make you more stubborn and on edge. Channel energy into constructive areas-- competitive sports and exercise can work wonders. The Solar Eclipse may be stressful, and can indicate a move, job change or major home repairs. After the 21, things lighten up a bit. A cosmic holiday compared to the intensity of late! Qualities you look for in a relationship include devotion, tenacity, passion, mystery, and expressiveness.

Sagittarius-Flowing with creative inspiration, the emphasis is on the third house of communication. Now is the perfect time to be more attentive to your inner self and develop a more profound connection between mind, body and spirit. Your mind may be working overtime. Aim for clear communication and stay open to unorthodox ideas. The New Moon Eclipse focuses attention on travel and educational concerns. Love is likely to be found close to home, in your neighborhood or vicinity. A love interest could even move in with you this month. Qualities you look for in a relationship include free spirited, optimism, philosophical, inspirational.

Capricorn-The Cosmos is telling you to shore up your home base, repair family relationships and build the important inner foundations needed for career success. The Solar Eclipse on the 15 affects your financial life, a very meaningful area to you. A sudden expense may surface, requiring you to make adjustments. Your interests are home-oriented now as Jupiter, planet of expansion, settles into your fourth house. Family relationships are improving, joy is added, and increases in family are likely as well. Qualities you look for in a relationship include: ambition, responsibility, patience, pragmatism, realism.

Aquarius- The Solar Eclipse in your unconventional sign makes you the hot spot of the zodiac. The challenge is to remain centered in the midst of redefining personality and image. Eclipses are power points, so try to take a reduced schedule for a few days before and after. If you have been waiting for a clue to move forward and incorporate changes, this is it. There is no other sign that's as much in synch with global and planetary trends right now. Jupiter moves into your third house, bringing increased communication skills, spiffy new computer equipment and a greater pursuit of intellectual interests. Qualities you look for in a relationship include: friendship utmost, inventiveness, progressiveness, uniqueness, non-possessiveness.

Pisces-February starts a mysterious inward journey, so tune into your dreams, especially during the Eclipse. Finances dramatically improve as Jupiter, the Santa Claus of the zodiac, visits your second house. Jupiter makes things bigger, more and better, so this can indeed be a blessing. Birthday bonanzas are likely to be larger than usual. With Venus and Mercury in your inspirational sign, showcase talents and share ideas. The Solar Eclipse is likely to produce changes in your spiritual life. You may be drawn to a spiritual teacher, or change your place of worship-- all as your faith in a higher power is tested. Qualities you look for in a relationship include: responsiveness, emotion, romance, understanding, tolerance.
copyright 1999 Andrea Mallis
Andrea, whose specialties include partnership astrology, will be leading a relationship compatibility workshop on Saturday Feb. 20 from 2-4 p.m. Please call 510-874-4911 or email andrea@virgoinservice.com for further information. For more on relationship compatibility read "Planetary Ponderings" at www.virgoinservice.com