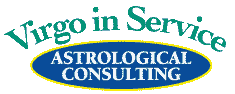 Classes...
Please contact me for upcoming classes.
Services...
An astrological consultation from Virgo in Service Astrological Consulting can assist you:
Uncover hidden talents and validate abilities
Reevaluate your self image
Communicate more effectively
Clarify inner conflicts
Create a winning relationship formula
Understand and eliminate negative patterns
Pinpoint strengths and skills
Increase self-esteem, feel better about yourself
Appreciate yourself and your unique gifts
Maximize your potentials, clarify vocational choices
Reinforce your intuition
Facilitate personal growth and awareness
I offer a wide variety of comprehensive astrological services, specializing in Relationship Compatibility and Timely Transit Updates. Read on and choose which service suits you best.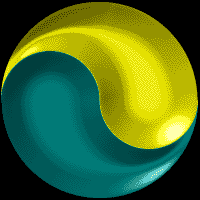 RELATIONSHIP COMPATIBILITY

is one of my areas of expertise. Astrology can be of enormous assistance in clarifying all of your relationships. Our connections with other people can be quite complex at times. Relationships often serve as a sacred container for growth and learning. Let the magic of relationship astrology shed light upon love, marriage, family ties, friendships and business associations.
Relationship astrology, also known as Compatibility or Chart Comparisons, can be a beneficial tool for everyone in a wide array of relationships.

Gain valuable insight:
Discover what factors really make or break a relationship
Find what prompts you to fall in and out of love
Learn the difference between fleeting physical attraction
and long term affection

Enhance harmony and gain deeper understanding in existing relationships
Learn the Path to your Partner's Heart
Identify and overcome communication blocks
Increase tolerance and understanding
Facilitate mutual consideration and problem solving
Uncover romantic strengths and weaknesses (are you too idealistic, in love with love?)

Clarify your needs and desires in relationships
Balance polarities
Strengthen understanding and love bonds
Gain instrumental insight on give and take dynamics
Go from heartache to happiness.....
Realize the dynamics behind the types of people you attract
Be warned about possible trouble spots
Learn flash points of harmony and disharmony
TIMELY PLANETARY FORECASTING
are another forte for me. "To everything there is a season, and a time for every purpose under the sun..." (Ecclesiastes 3:1-8) Tune into Universal Cosmic Timing! Have a most valuable map of your journey to guide you on your life path. Transits, current planetary positions, signifies major periods of growth, change and opportunity. Planetary transits signal the best time WHEN to effectively change directions.

Some important guideposts on the road of life are:
midlife crisis
adolescent rebellion
claiming adulthood(known as Saturn return, the 29th year rite of passage, change of job, relationship, home, etc.)
Working consciously with planetary transits allows you to:
Act at the Right moment
Recognize opportunities and
rise above challenges
Transform difficult situations into creative opportunities for personal growth
Become inspired to change direction and let go of bad habits
Equipped with your own timely and unique planetary map:
Learn the keys to working with the maturing Saturn return and tumultuous mid-life transits

Gain wisdom and compassion from navigating internal changes
Open windows of opportunity to release addictive patterns,
to rebirth yourself

Restore cosmic equilibrium:
Have support through major career transitions
Discover best times for optimum physical performance
Determine best time to return to school and get credentials
Let go of jobs that have outlived their creative usefulness
Transition out of relationships that have run their course
---
There are a variety of ways to contact me:

email andrea@virgoinservice.com for a free brochure
voicemail at 510-874-4911
write me at PO Box 12374, Berkeley, CA 94712

Home
services | consultations
relationship compatibility | monthly horoscope | about me
resources | celestial magic